---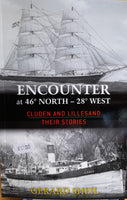 This is the true account of the remarkable survival of Captain Johansen and the crew of the Norwegian brig Lillesand which experienced unrelenting hurricane force storms and extensive damage before their dramatic rescue by the the London registered tramp steamship Cluden in the north Atlantic Ocean in January 1916.
For over one hundred years little was known about this significant and historic event which took place while the Great War raged in Europe.
For their valiant efforts and professionalism shown during the dangerous rescue, Captain Scott of the steamship Cluden and her lifeboat crew received silver bravery awards from the King of Norway, King Haakon VII. First Mate John Maddock and Bosun William Sheill, former lifeboat volunteers from Rosslare Fort in County Wexford, were among those honoured.