---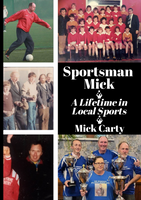 You've read about Roy Keanes battle in Saipan and Alex Fergusons tips on management. You have Jim McGuinness, Davy Fitzgerald and Henry Shefflin sitting on the Bookshelf. Every year, another couple of sports bios are left under your Christmas tree.
But now it's time to read a new story.
Mick Carty has given forty years to amateur sports, engaging himself in local GAA, soccer, athletics, pool and skittles. He has known success and defeat, intrigue and deflation.